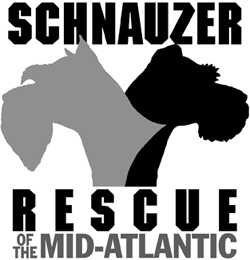 PUPPIES!
THE PUPPIES HAVE BEEN ADOPTED
MORE INFORMATION AS THEY ARE AVAILABLE
DO NOT CALL US ABOUT THE PUPPIES
PUPPY INFORMATION
All applicants for puppies must complete an adoption application and go through the approval process.
Please do not apply to adopt a puppy if you do not have the time to train your puppy. It requires a lot of time and patience to properly train your puppy. A basic puppy obedience class is required for each puppy and a follow up dog obedience class is required when the Schnauzer is 1 year old.. You must be enrolled in a puppy class before the adoption.
A spay/neuter deposit will be required for each puppy. The deposit will be returned once the adopter provides proof that the puppy was spayed/neutered and within the time frame specified.
The adoption donation for each puppy is $350.00. A $150.00 refundable spay/neuter deposit will be required for all puppies.
We do not have a central facility and all puppies are in foster homes, visitations are therefore not possible. Requests for male/female and color will be given on a first come basis.
Adopters must live in our adopting area of MD, DC, VA, PA or DE. We will not ship our puppies.
First come, first serve for the puppies.
Adopters must agree to our adoption policies and procedures.
If you would like to apply to adopt one of these puppies, you must first submit an adoption application.
If you have any questions, email puppypatrol@schnauzerrescue.net
DO NOT CALL US ABOUT THE PUPPIES
Help support all needy Schnauzers in Schnauzer Rescue.
MORE PHOTOS WILL BE POSTED AS WE GET THEM

6 Puppies are currently available for adoption

4 Males and 2 Females
DO NOT CALL US ABOUT THE PUPPIES
EMAIL puppypatrol@schnauzerrescue.net
CLICK ON ANY IMAGE TO ENLARGE

UPDATED PHOTOS
MORE INFORMATION ABOUT THE PUPPIES
WILL BE POSTED AS WE KNOW IT
The puppies are 18 weeks old

They are all salt and pepper

Tails are docked

Ears are natural

All of them are current on rabies, distemper, bordetella, they have be routinely de-wormed

They weigh 9.5 to 12 pounds

Puppies are not house trained but they are learning

All puppies are in foster homes

We do not have a central facility, therefore visitations are not possible

Bear and Tyson are still available for adoption
TYSON-Has been adopted!

Apply on Line | Foster Home Info. | General Rescue Info.
Available Dogs | Volunteer | Contact Us | Rescue Links |
Humane Education | Happy Endings
Schnauzer Gallery | Great Rescue Stories

Happy Endings in 2008 | In Memory